We proudly invite our guests at Ambar to enjoy the first Dining without Limits Experience in the United States.
This unique concept allows diners to savor over 40 dishes and to reorder their favorites without limitations. This is a modern interpretation of one of the oldest Balkan traditions called "Voz."
"Voz" translates to "Train." This novel idea was offered in the Balkans in the early 50s and 60s, as a Small and a Big Train. When ordering the Small train at a restaurant, guests received new dishes every 10 minutes. Ordering a Big train produced new plates of fare every 5 minutes. The chef oversaw each guest's culinary adventure. We were inspired by this tradition and the idea of Dining without Limits was born.
However, we improved upon this concept, making the experience all the better at Ambar. By ordering our Dining without Limits, each guest can tailor their dining preferences. They can order whatever appeals to them from the menu, as many times as they want to enjoy those dishes, indulging to their heart's desire.
For centuries, visitors to our region have been treated as honored guests in our homes. Following this noble tradition, Ambar embraces everyone with a warm, friendly atmosphere replicating the at home experience. While we may be thousands of miles from the Balkans, with Ambar our fabled, ENDLESS hospitality is ever present.
Our new dining approach transforms the traditional experience of ordering an appetizer and entree per person, to gathering around the table for a feast. Our guests enjoy authentic dishes within different categories, like grilled meats and seafood, slow-cooked fare, authentic spreads, baked flatbreads, and pies. Everyone who visits us is welcome to explore 40 unique dishes and the indigenous Balkan premium wines, as well as an expansive collection of traditional brandy called rakia.
ZIVELI & WELCOME TO A NEW WAY OF DINING WHERE QUALITY MEETS EXPERIENCE AND VALUE
MEZZE & SPREAD
Our spreads and charcuterie are uniquely different and absolutely delicious. Fan-favorites include Ajvar and Beet Tzatziki, which are served with our freshly baked pita bread and truffle sourdough which are presented as guests take their places to begin the feast.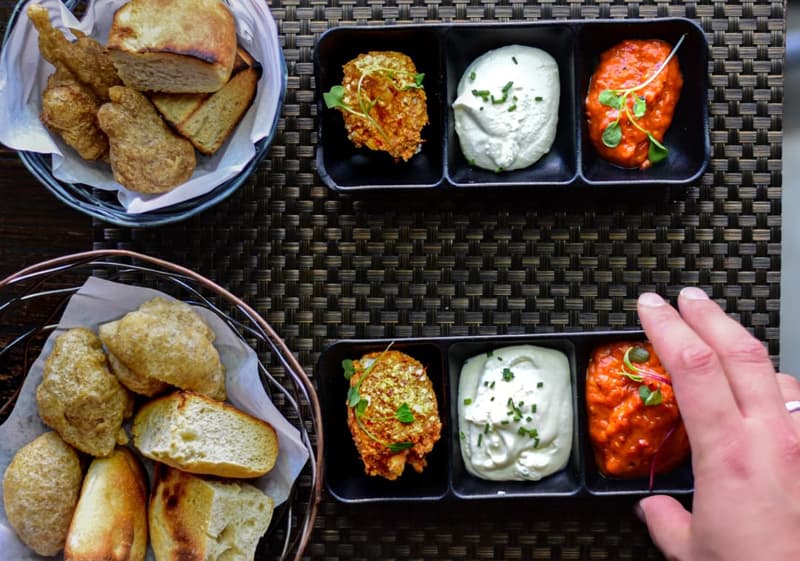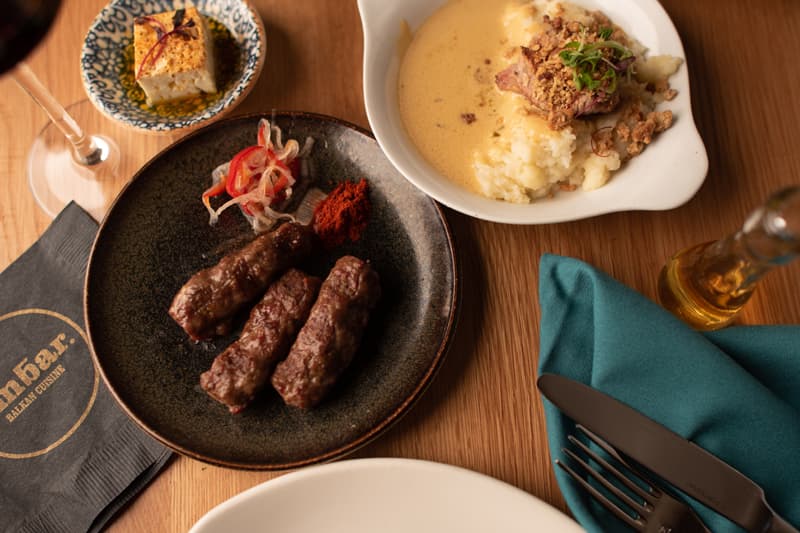 FROM THE GRILL
These addictive Kebabs are the number one dish that most Balkans recommend to their foreign friends to savor when they visit. They are unmistakably Balkan.
SLOW COOKED
Delicious and filled with history, Sarma, which is pork belly stuffed cabbage that is oven baked for 8 hours with root vegetables, rice, and smoked peppers, has roots dating back 500 years.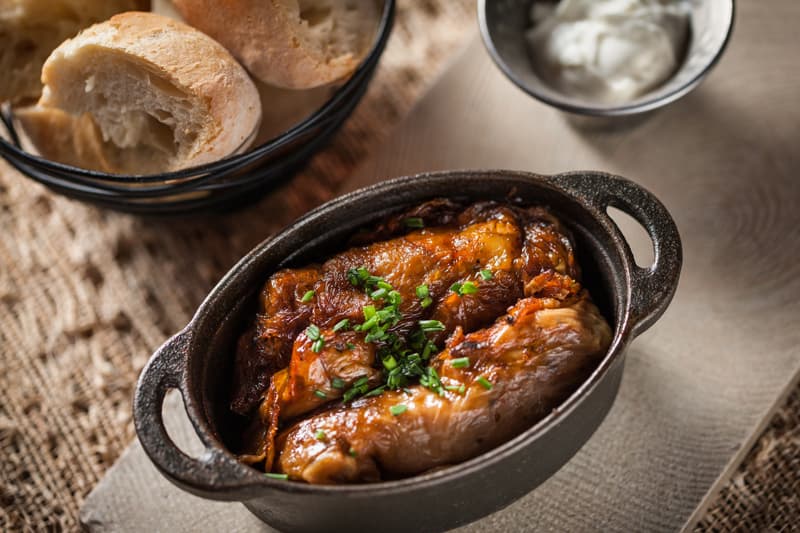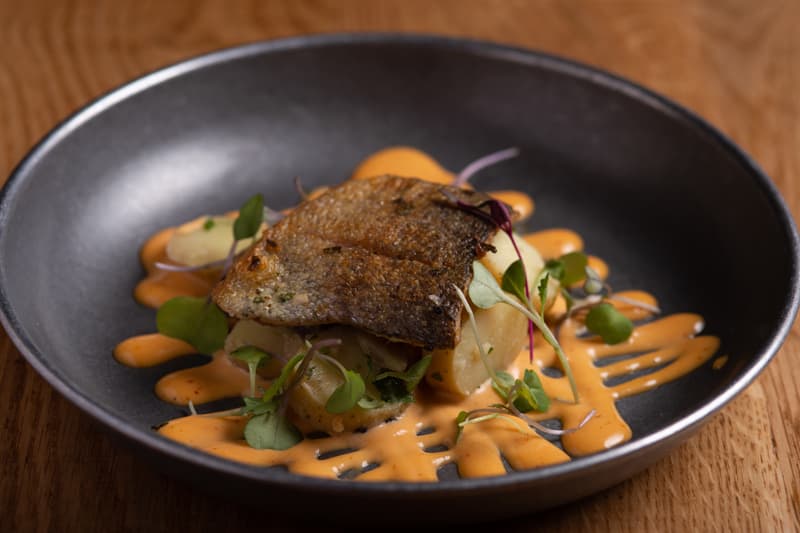 SEAFOOD
Taking inspiration from Croatia coastline cuisine that provides a culinary odyssey for serious gourmands. In these coastal towns and villages, fishing – and eating fish and shellfish – has been a way of life for centuries.
BAKED PIES & FLATBREADS
Indulge in delicious handmade flatbread from Macedonia as well as our baked pies stuffed with cheese and meat.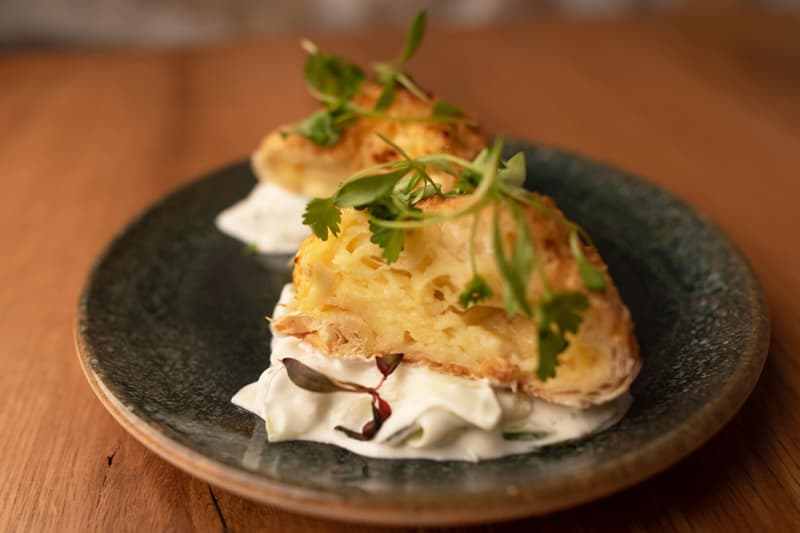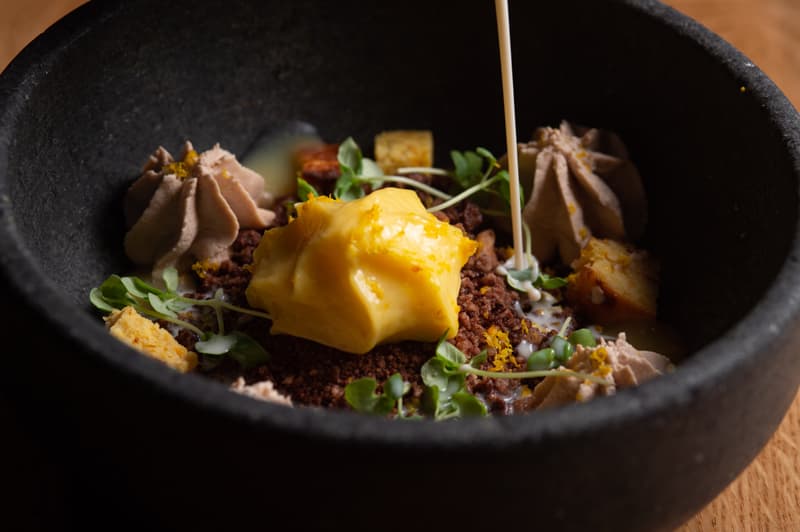 DESSERTS
End your meal on a sweet note with desserts like our award-winning Forest Gnocchi. This showstopper, like all our desserts, combines the perfect ingredients to bring a decadent finish to the meal.
RAKIA
This popular fruit brandy from the Balkan region, has been established as a "homemade drink", for centuries. Today, this handcrafted spirit is made in small distilleries, getting its unique flavoring from the distillation of 100% organic fruits. Being the national drink of the Balkans, it is often served as a welcoming toast to guests and is best enjoyed with good food and company.
The Ambar Experience
"A Litany of Delightful Small Plates" - The Michelin Guide
Explore the rich, savory food of the Balkan Peninsula by trying a little bit of everything - all for one flat price.
RESERVE A TABLE
Make a group reservation for your next Ambar experience at your nearest location.